Visitors with a disability
All venues of be•at are equipped for the reception of disabled visitors. We strive to welcome you as best we can and to let you enjoy a concert, show or sports competition in the best conditions.
Book your places by phone or contact us via the contact form. This way we can make the right booking for you.
Our volunteers will be happy to guide you to your place in the venue.
Wheelchair users
In Sportpaleis there are reserved places for wheelchair users and the person accompanying them. These places, like those of all other price categories, are limited in number. So don't hesitate to book your place right away! There is room for one escort per wheelchair user. Tele Ticket Service will be happy to check whether exceptions are possible to place families together, for example, but unfortunately (and certainly for larger groups) this is not always possible.
For safety reasons it is not possible to provide places for wheelchair users on the central square.
Hearing impaired
If there is a need for a deaf interpreter, you must take care of this yourself, unless an organizing party would be responsible for this and made prior arrangements with Tele Ticket Service, the actual organizer or the hall managers (for example, by having seats recorded and a temporary ring loop provided).
Visual handicap
If you would like to attend an event with a guide dog for the blind, please contact us.
Parking spots for Wheelchair users and holders of an EU standardized model of parking card for the disabled
In Sportpaleis and Lotto Arena, we reserve a few spots for wheelchair users and their companions. These customers are also entitled to reserved parking spots available up till 30 minutes before the start of an event. These spots are located on our private parking Vaart (5 EUR). We would like to inform you that strict control is maintained on these reserved spots. So please keep your EU parking card, ID and entrance ticket ready to show to our parking attendants.
View the plan to see where the parking spaces for visitors with a disability card and the entrance for wheelchair users (entrance 7b of the Sportpaleis) are located.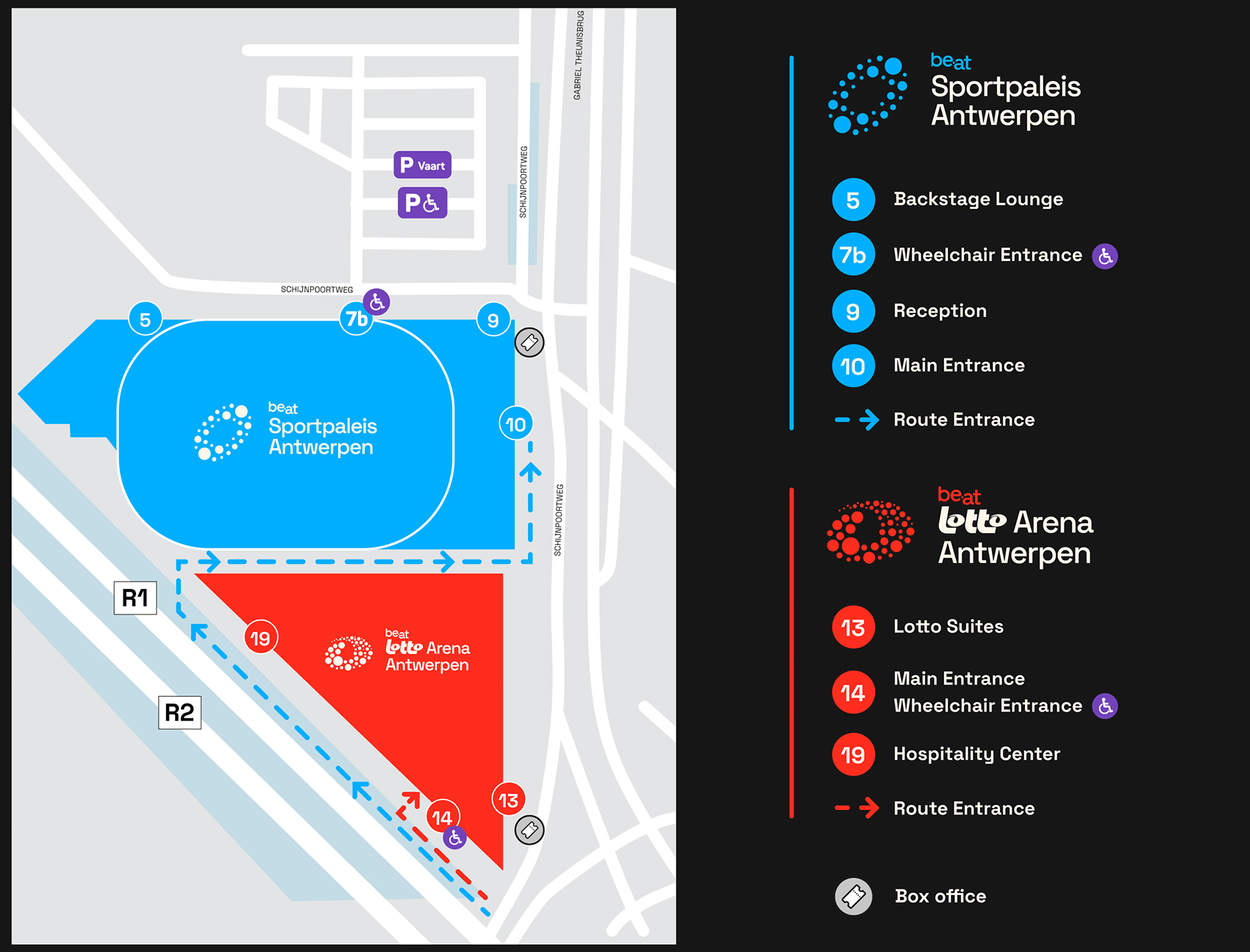 Temporarily less mobile
Are you temporarily less mobile and not a holder of an EU parking card? If you want to use the parking Vaart, you will need to inform our parking attendants at the entrance of the parking area, preferably with a doctor's or other medical certificate as proof. Or you can also contact us in advance.